South-eastern Michigan is home to several organizations that provide spaces of support and advocacy for same-gender loving, queer, LGB, and transgender folks in addressing healthcare needs. Earlier this week, I wandered down to TechTown in Detroit to talk with Rhiannon Chester, the Program Coordinator at KICK, to understand more about how their organization positively impacts the health and wellness of the community. KICK is known as the agency for LGBT African Americans. I had previously coordinated some LGBTQ voter engagement initiatives with KICK in 2012, so it was exciting to be able to work with them again in relation to the LGBTQ Taskforce under MICHUHCAN.
A picture of the KICK staff laughing and smiling. From the left to right: Jamiil M. Gaston, Alvina Bursey, David A. Nelson Jr, Rhiannon L. Chester, and Curtis Lipscomb
KICK hosts weekly, monthly, quarterly, and annual programs. Talk Tuesday is KICK's weekly discussion group for the community; Woman to Woman is a monthly discussion group for lesbian, bi-attractional, and queer women of color. KICK is also the main organization that runs the well-known "Hotter Than July" annual social justice rally for LGBT African Americans. KICK hosts quarterly expos that revolve around each of their focus areas: Health and Wellness, Education and Advocacy, Careers and Employment, and Social Justice and Equity.
Rhiannon discussed the 2nd Annual Health and Wellness Expo, which provided presentations on mental health, healthy relationships, and spiritual and holistic health. During 2013's Health and Wellness quarter, KICK had hosted a Talk Tuesday about ACA enrollment. Rhiannon and I continued to talk about the ACA as it relates to the needs of the LGBT African American community. When asked about what she thinks the benefits of the ACA for her community, Rhiannon said that it "provides avenues for healthcare where there wasn't before, and hopefully it's truly affordable."
We also discussed how the ACA requires certain preventions services to will be included in plans without additional out of pocket costs. The African American and Latin@ communities experience higher rates of cervical cancer, which can be treated with high rates of success when detected early. The LGBT community faces additional disparities with HIV rates (especially in African American and Latin@ communities), mental health issues, tobacco use, and substance use. These disparities can be addressed and treated earlier with prevention screenings.
As we talked about how these communities would benefit from greater access to prevention services, Rhiannon conveyed the importance of how climate within medical settings is a barrier for LGBT African Americans utilizing services:
"Even if I give you insurance, getting you into the place to be comfortable and to really have a relationship with a provider…that's a completely different situation…A lot of the health disparities in the black community can be treated through prevention. But we don't deal with prevention because we don't have relationships with health providers…because of the way we're treated in the system."
Several studies have demonstrated the different ways in which treatment for certain medical conditions is delayed for African American patients, both in relation to patients seeking treatment and in relation to medical professionals not providing timely or effective treatments.
"Just the way that you're treated as a person of color in the hospital…you constantly are out of place. Because I'm serious about my health, I continue to go back…but I can't say that I don't have those feelings when I go. Even when talking to the front desk about insurance stuff…health insurance lingo is complicated. It's a whole other world that people aren't a part of."
Rhiannon also spoke to the importance of transgender related healthcare and making sure that services are being provided to individuals based on what their anatomy is, rather than what their gender marker is on their identification. Rhiannon and I discussed about how historically "gendered" medical services are not covered for transgender people who have been able to legally change their gender marker on their identification. For example, for a trans woman who has an "F" as her marker, her insurance pre-ACA may not have covered a prostate exam for her even though she would still has that anatomy.
The ACA is now supposed to provide protections for coverage of all preventative services. Rhiannon and I have our doubts about how doctors and insurers will initially abide by it, though. "It's so interesting that we're consumed with trans bodies," Rhiannon remarked, "but we're not concerned with taking care of them."
KICK is currently in its Education and Advocacy quarter, so Rhiannon and I discussed the main event that will be taking place on Saturday, February 22nd from 9:30 am to 3:30 pm. Rhiannon described the 2nd Annual Education and Advocacy Exhibition ("the E & A") as a day of workshops that challenge the way many people see education and advocacy: "It's about education in totality…Education is not just schooling and it's not just the gathering of information."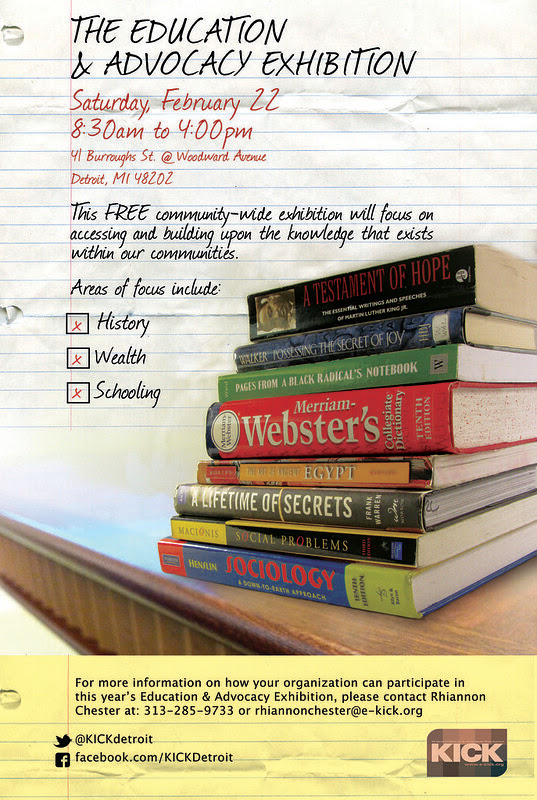 Rhiannon spoke to the importance of seeing advocacy as a part of education. The day's events will include a workshop on black LGBT history, a presentation on self-advocacy in healthcare by the National Black Leadership Coalition on AIDS, a presentation on the Affordable Care Act by Michigan Consumers for Healthcare, a workshop for finding resources for school, and an ally training.
KICK will also be hosting "Call me Kuchu" film screening about the first openly gay man in Uganda on February 20th at 6:30 pm at the Charles H. Wright Museum in Detroit. Following the movie will be a panel presenting Executive Director of Sexual Minorities Uganda, Frank Mugisha. KICK will also be hosting a Detroit Police and LGBT Forum on 2/26 at 6:00 pm to discuss training an LGBT Liaison.
***
Preston Van Vliet is part of the recently-formed LGBTQ Taskforce for MICHUHCAN. He is a 23 year old queer trans man who has been involved in LGBTIQ volunteering and activism in south-eastern Michigan since 2009. He loves dancing to Whitney Houston, eating cheesecake, and just has so many feelings.